Cultural Tourism Kampung Naga, Tasikmalaya - West Java
Kategori : Wisata Alam
Kampung Naga is a traditional village with a total area of approximately 4 hectares. Kampung Naga is located on the roadway that connects Tasikmalaya - Bandung via Garut, 30 kilometers to the west toward the town of Tasikmalaya.
Kampung Naga inhabited by a group of people who are very strong in holding the relics of ancestral customs. It will be obvious differences when compared with other communities outside of Kampung Naga. Kampung Naga community living in an institution that is conditioned in an atmosphere of modesty and traditional wisdom inherent environment.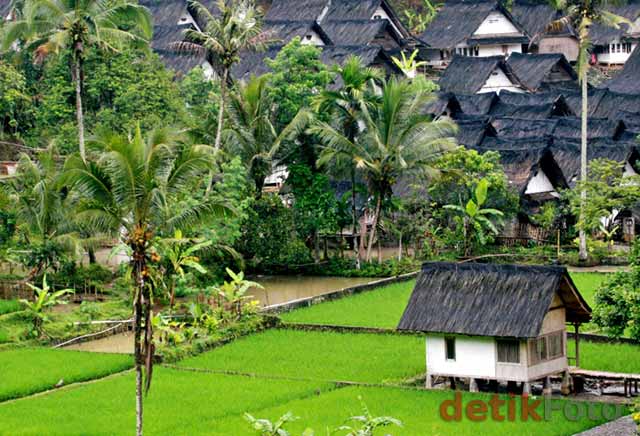 Location and topography Kampung Naga
This village is administratively located in the region Neglasari, District Salawu, Tasikmalaya Regency, West Java Province. Kampung Naga location not far from the highway that connects the city with the city of Garut Tasikmalaya. The village is located in a fertile valley, with the boundary region, west of Kampung Naga is limited by the sacred forest in the forest because there are people Kampung Naga ancestral graves. To the south bordered by rice fields of the population, and to the north and east are limited by Ci Wulan (Wulan time) that the source of its water comes from Mount Cikuray in Garut. Distance from the town of Tasikmalaya to Kampung Naga approximately 30 kilometers, while of Garut city 26 kilometers away.
To get to Kampung Naga highway from the direction of Garut-Tasikmalaya had to go down stairs that have been on the wall (Sunda: sengked) down to the riverbank Ciwulan with a slope of about 45 degrees with a distance of approximately 500 meters. Then melaluai footpath along the river up into Kampung Naga Ciwula
Unique characteristic of the Kampung Naga
The appeal of Kampung Naga tourist attraction lies in the unique life of the community is located in Kampung Naga. Their lives can blend in with modern society, a Muslim, but still maintain both strong Customs of his ancestors. Like many traditional ceremonies, ceremonies besr days of Islam such as ceremonies or Alif Mulud month by carrying out Pedaran (reading History Ancestors) The process begins by bathing in the River Ciwulan and Travellers should follow the event on condition that must abide by the rules there.
Form of buildings in Kampung Naga equally good homes, mosques, Patemon (meeting hall) and rice. The roof is made from sago palm leaves, palm leaves, or as a cover injuk bumbungan. The walls of houses and other buildings, made ​​of woven bamboo (booths). Meanwhile the building doors are made of rattan fiber and all the buildings facing North or South. Besides a neat pile of stones with the layout and natural ingredients are the hallmark of the architecture and ornaments because the Dragon Village.
This tourist attraction is one of the cultural attractions in Tasikmlaya Travelers usually have special interests that want to know the real state and prove proficiency level. Kampung Naga tourist development including the development of short-term outreach.
from various sources
Tag : kampung naga, cultural tourism, sundanis cultural, indonesia cultural